Subject Information
Please click on a subject below to read about how we teach that subject in each year group.
Art
The importance of Art
Art stimulates creativity and imagination. It provides visual, tactile and sensory experiences and a unique way of understanding and responding to the world. Encouraging children to think outside their own immediate environment is an increasingly important aspect of the primary school's role. By introducing children to the work of artists, makers and designers from around the world, showing them historical artefacts, and providing examples of artistic traditions, textiles and methods of working from other cultures, we can enable children to make important connections between themselves and those whose lives and experiences might otherwise seem very remote. Pupils use colour, form, texture, pattern and different materials and processes to communicate what they see, feel and think. Through art and design they learn to make informed judgements and aesthetic and practical decisions, becoming actively involved in shaping their environment. Understanding, enjoyment and appreciation of the visual arts has a powerful and valuable role to play in the overall ethos of Charlestown Primary School.
Through the teaching of Art and Design we aim to:
provide a stimulating environment with exciting, high quality displays and
interesting artefacts that will excite their imagination and add value to their work
provide a broad and balanced range of arts activities
develop pupil's visual and tactile awareness and visual and tactile literacy
develop each child's ability to communicate ideas, opinions and feelings about their own work and that of others; and through that, develop a sense of value of their own and others' work
provide opportunities for pupils to use a wide variety of artistic media so that they acquire skills and develop techniques that will enable them to realise their ideas in both 2D and 3D work
ensure pupils can use tools and materials safely and make appropriate choices
to extend and enrich other subject areas by the incorporation of art
How do we teach art?
At Charlestown Primary School, we achieve our intentions through:
Following a whole school curriculum that covers a range of artists and genres and forms: drawing, painting, collage, print, sculpture, textiles and digital media
Half-termly units with 3(+) lessons taught over consecutive weeks
Whole class, mixed ability lessons in which skills are taught in a way that is accessible to all, with special provision provided where required
High quality teaching by all teachers, including non-specialists, who are supported and therefore confident in the delivery of our art curriculum
Questions asked by both children and adults to develop curiosity and deepen understanding
Cross-curricular links made where appropriate to ensure a broad and balanced curriculum
Range of influences in our curriculum which covers a diverse range of artists, designers and artisans, both past and present, international and local
Rich experience of art where children and families are encouraged to visit local galleries, and opportunities are provided by the school where feasible
Art days held annually, consisting of a whole school exhibition, a celebration of art and opportunities to share and teach skills learned by children
Fluency of skills where drawing and painting are revisited and developed each year
Encouraging artistic language when exploring artists' and pupils' work, supported by vocabulary grids which are accessible in sketch books at all times
Self/peer assessment used effectively and continually throughout units; providing opportunities for children to identify and action next steps
Teacher assessment to be ongoing; monitoring children's understanding, knowledge and skills. This assessment is then used to inform differentiation, support and challenge.
Significant levels of originality and "artistic risk-taking" encouraged and modelled effectively by teachers
Cooperative and independent work opportunities which encourages children to work independently or constructively and productively with others
Ethical and hygienic work where children become responsible and safe designers and creators
Useful links
Learn to draw by following this link! Art for Kids Hub - YouTube
Explore the Tate here! Tate Kids
Shared Sketchbook: Inspiring others!
In Year 4, we have been trialling a shared sketchbook. Each week, one of us takes the sketchbook home and create something spectacular. We share our work and pass it on to the next artist!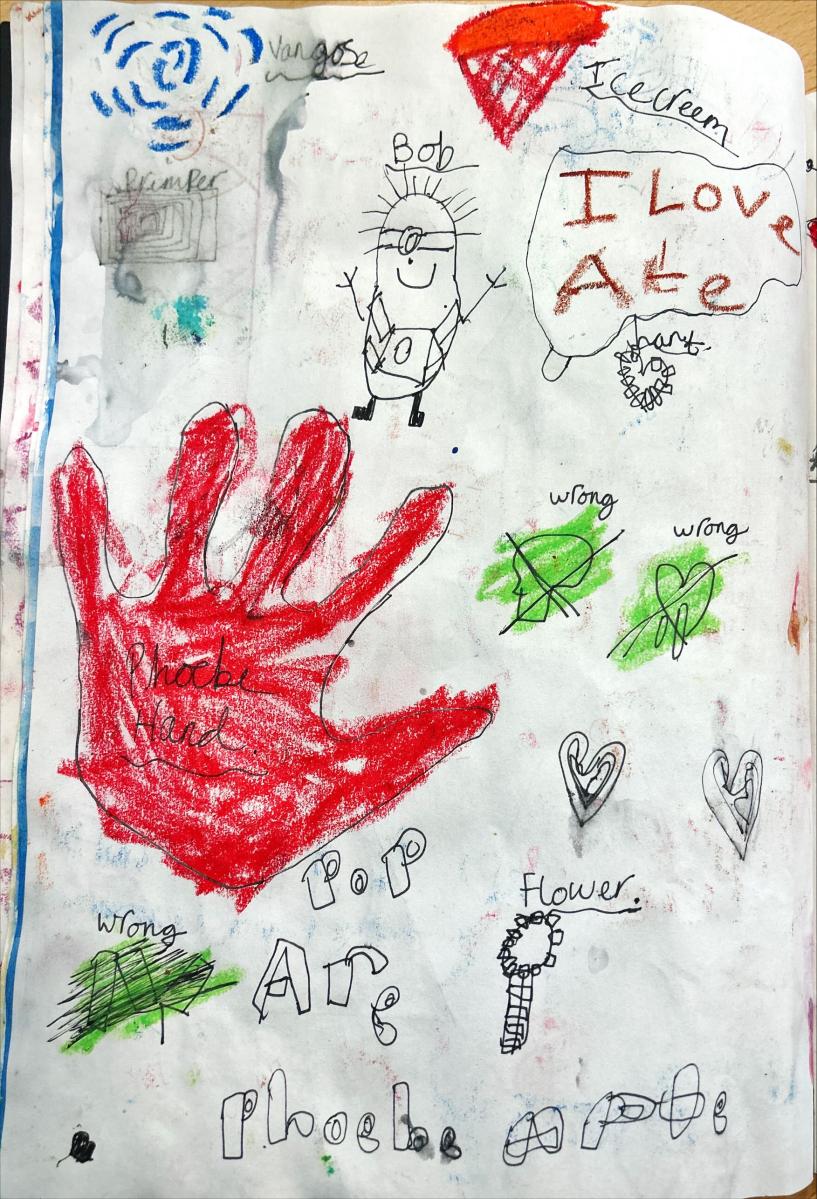 Computing
Please browse the computing Sway below to explore our computing curriculum at Charlestown Primary School.
Intent
Technology can help children make accelerated progress in all areas of their learning. We do not know what the future holds for our children, so the aim of the Charlestown Computing Curriculum is to give the pupils the best start to life involving technology, preparing them with the skills to adapt and adjust to the technology of the future. As a school we believe that pupils should not just be 'computer literate', but be able to use technology to solve problems, help them access learning and stay safe online.
Implementation
At Charlestown Primary, the curriculum for both computing and E Safety have been organized to ensure progression of skills and understanding year on year. Using the National Curriculum, we aim to ensure all children are equipped for the digital world.
For this we have broken down the curriculum into three areas: Computer Science, Digital Literacy and ICT. In Computer Science, the children will develop their knowledge of language for computing (algorithms, debug, etc.) before working with variables and programing to solve problems. Our Digital Literacy, taught through Project Evolve, the pupils will become global citizens of technology understanding how to stay safe and evaluate online content. Finally, in the ICT area of the curriculum the pupils will put their skills into practice and be creative using different programs, apps and software. Here we provide the pupils with a variety of software on a range of digital devices to design, create and find solutions to problems. This includes collecting, analysing, evaluating and presenting data, before using their Computer Science skills to find a solution and improve their creation. An example of this is using Scratch programming to move a 'sprite' around the screen to creating online games for younger children. Another example would be to use 'Crumble Robotics' to create and program an intruder alarm with a distance sensor, LEDs and servo. 
Impact
Through the implementation of our curriculum and the use of our hardware and software available throughout the school, children at Charlestown Primary will be digitally literate and able to go out into the world understanding digital platforms. This will not only include using a range of software and hardware products, but also the fundamentals of computer science, such as abstraction, algorithms and tinkering. Children will be able to use various systems and apply problem solving techniques with coding systems. One of the largest impacts will be on staying safe online. Through our Project Evolve lessons, the children will become more confident in their computing ability as well as ensuring they stay safe and respect others online. As children become more assured in their abilities in Computing, they will become more independent and key life skills such as problem-solving, logical thinking and self-evaluation become second nature.
Minecraft Education Edition
Design Technology
Design Technology often links to other subjects. For example, we link history learning about WW2 with rationing and learning about foods that were grown and cooked during the war. Of course there are other links to maths (measuring) and art (designing).
The key to the process is the evaluation - how can we improve what we have designed? As with all other areas of our learning, we try to make DT as exciting as possible.
Please look at the skills and language below to see what we aim to cover with each year group.
Below that is a map of the activities we currently base our DT on.
March 2023 quotes from the children:
Year 2 child: 'I like DT, we made patches for guy last term.'
Year 3 child: 'We designed and made artificial flowers for our mums.'
Year 4 child: 'We love DT......we've made pizzas and slidey pictures. I could be a chef.'
Year 5 child: 'We made boats. It was really fun.'
Year 6 child: 'I like DT......you could be anything like a fashion designer or a builder.'
Geography
The Nature of Geography
Geography is concerned with the study of places, the human and physical process which shape them and the people who live in them. Pupils study their area, and contrasting localities in the United Kingdom and other parts of the world.
Geography helps pupils to gain a greater understanding of the ways of life and cultures of people in other places. The study of the local area forms an important part of the geography taught at Charlestown, particularly at Key Stage 1. Enjoyable geographical activities are planned to build upon the pupils' knowledge and understanding of the local area.
Intent
To build a Geography curriculum which ensures that all of our children will have a good knowledge of where places are and what they are like both in Britain and in the Wider World. We will teach children to have a comprehensive base of geographical knowledge and vocabulary which will progress into children acquiring the skill to question effectively to find out more about the world they live in. Questioning skills will enable the children to have a genuine interest in the subject and seek out practical investigations to find out more about the world and the people who live in it.
Implementation
Every unit of work will start with a knowledge Organiser:
Children will have easy access to key information, terminology, quotes and dates regarding their geography topic which is all in one place. As a result, the children will be able to understand and readily apply this information to their work.
Enquiry based WALT's. For example, 'Why is Antarctica the coldest place on Earth?'
Proof of progression in the unit:
Children will create a double page spread or even a video to show their knowledge at the end of a unit.
Impact
Our children will be excited and curious about the world and the people who live in it, they will communicate their view of the world using geography-based vocabulary and knowledge. Children will link their learning to other areas in the curriculum. Children will work collaboratively and practically to discuss and develop their geographical understanding.
History
Intent
We teach high quality history lessons that inspire children to want to know more about the past and to think and act as historians. We build a history curriculum which develops learning and results in the acquisition of knowledge and skills which enables children to enquire, research and analyse in history. Children will know more, remember more, and understand more.
Implementation
Knowledge Organisers:
Children have easy access to key information, terminology, quotes and dates regarding their history topic which is all in one place. As a result, the children will be able to understand and readily apply this information to their work.
Children will access resources to acquire learning through artefacts, digital technology, primary and secondary evidence: Artefacts are to be used where possible for children to explore and investigate to further the children's historical knowledge, understanding and skills. Children will use a range of secondary resources to also develop their knowledge and understanding.
Impact
Children will be inspired, engaged and curious about the past and will want to know more, find out more and remember more about history. Children will be able to question ideas, reflect on knowledge and children will work collaboratively and practically to investigate and question.
Maths
March 2022: Quotes from the children
Y1 child: 'Independent maths can be tricky but we keep persevering.'
Y2 child: 'I love maths. It's fun!'
Y3 child: 'Maths is to educate for the future, to help other subjects and it's useful in real like like for money.'
Y4 child: 'We learn so much in maths and we do maths all the time, even for telling the time and stuff.'
Y5 child: 'I love maths because you learn things usual for life. It helps you figure out hard things and applies to real life.'
Y6 child: 'We learn about different methods and it's really fun. I do extra maths every day at home just for fun.'
Modern Foreign Languages
Please scroll down the 'Modern Foreign Languages at Charlestown Primary School' Sway below to find our more about MFL at our school.
Introduction
At Charlestown Primary School we believe that the learning of a foreign language provides a valuable educational, social and cultural experience for our pupils. It helps them to develop communication skills and extends their knowledge of how language works. Learning another language gives children a new perspective on the world, encouraging them to understand their own cultures and those of others.
Taking this into consideration Charlestown Primary school aims to enhance pupils' awareness of the multilingual and multicultural world in which we live. Through the introduction of an international dimension to their learning, pupils will be given an insight into their own culture and those of others. They will also develop linguistic competence, extending their knowledge of how language works and exploring differences and similarities between the other languages and English.
Our Objectives
The objectives of learning a Modern Foreign Language in primary school are to:
foster an interest in learning other languages
introduce young children to another language in a way that is enjoyable and fun
stimulate and encourage children's curiosity about language
encourage children to be aware that language has structure and that the structure differs from one language to another
help the children develop their awareness of cultural differences in other countries
develop their speaking and listening skills lay the foundations for future study
Music
Intent
At Charlestown Primary School, we believe that a high-quality music education should engage and inspire pupils to develop a love of music and their talents as musicians. Our children's knowledge and experiences of music are nurtured and developed and so increase their self-confidence, creativity and sense of achievement. Our music curriculum informed by the National Curriculum aims, will give children opportunities to perform, listen to, review and evaluate different styles of music whilst simultaneously learning to sing and play musical instruments. They will have the opportunity to create and compose music with others and on their own and gain an understanding of the technical elements needed to do this. Alongside this, pupils have the opportunity to experience extra-curricular clubs such as our school choir, peripatetic instrumental lessons or First Access whole class lessons which enhances the curriculum on offer.
We hope to foster a lifelong love of music through diverse musical experiences and will encourage our children on their individual musical journeys, as well as giving them opportunities to connect with others.
Implementation
Our music teaching ensures children have the opportunity to sing, listen, play, perform and evaluate. The delivery of our music curriculum is embedded with the use of the Charanga scheme of Work to ensure a wide exposure of different genres and many opportunities to explore and develop as musicians and singers. Teachers follow the suggested scheme of work, although adaptations can be made using the 'freestyle' element of the package to substitute units deemed to be more appropriate for thematic learning in other curriculum areas. Music lessons are broken down into half-termly units and an emphasis is placed on musical vocabulary, allowing children to talk about pieces of music using the correct terminology. Each unit of work has an on-going musical learning focus and lessons usually follow a specific learning sequence:
· Listen and Appraise
· Musical Activities (including pulse and rhythm)
· Singing and Voice
· Playing instruments
· Improvisation / Composition
· Perform and Share
We also have weekly singing assemblies, the learning of instruments via the Cornwall Music Service Trust or Rocksteady, and the option to join our school choir. Opportunities are taken to perform in class, in assemblies and also to parents and the wider community. Alongside this, KS2 children are given the opportunity to learn an instrument for a term through the First Access scheme provided by the Cornwall Music Hub.
Impact
At Charlestown Primary School, children are enthused and engaged in a wide variety of musical activities and are able to enjoy the subject in many ways. Pupils will leave Charlestown Primary School able to express themselves musically as composers, performers and listeners. This varied programme allows them to discover areas of strength, as well as areas they might like to improve on. Lifelong skills of resilience and teamwork are promoted in the subject, as children learn to work both independently and as part of a group. Opportunities to perform and watch music within school and outside of school ensure that children are excited and engaged. They also learn to understand the significance and place of music within the wider world, developing an understanding of culture and history, both in relation to children individually, as well as ethnicities from across the world. Through music, children are able to discuss and share their own thoughts, opinions and ideas, acknowledging and respecting that these may vary and that this is positive.
The impact of our music curriculum is measured in a variety of ways: through pupil voice, we know that pupils show a developed understanding of the methods and skills of musicians from Early Years to Year 6. Pupils can articulate the key vocabulary, composers, time periods and offer thoughtful reflections and appraisals of music. Through lesson monitoring and pupils' work, the impact of the curriculum can be seen in pupils' skills to listen, appraise, compose and perform their own pieces and those of others.
Outdoor Learning
Since 2016, we have been developing our outdoor learning environment. We have been lucky enough to access grants, donations and fund raised ourselves to help transform our outdoor areas so they can be an extension of our indoor learning areas.
For example, as part of National Tree planting week in 2017, children from across the school helped plant a mini orchard. The trees were donated by the Woodland Trust. The children enjoyed getting their hands dirty and are looking forward to tasting the fruit in the coming years.
The trees were donated as part of a successful grant written by the Trust project development manager. (Part of being in a Trust means we are able to access funds through bids they write). Thanks to Polly Menear for her work on this.
In some of the pictures, you will see children wearing green uniform. They are Charlestown children - celebrating the launch of our sister school Sky School (also part of Kernow Learning). We regularly provide outdoor learning training for teachers, other school staff and trainee teachers.
Outdoor learning is constantly developing at Charlestown, so keep an eye on Twitter for our latest activities as well as more information on this page.
One of our most recent developments - following a huge fundraising effort by the children, with support from the Friends of Charlestown (PTA) - is our bike track - which more than just allowing us to cycle around our outdoor area, gives much better access of this resource to all of our children. Watch the video shot by Logan below:
A group of year 5 and 6's went to Blackwater to use the Cornwall BMX Racing Club bikes and track with an Accredited British Cycling Coach. A successful day of grit, determination and perseverance.
Physical Education
Rationale and Introduction
PE has a unique place in the National Curriculum (NC), as it is the only subject which essentially focuses on the body and physical experience. It is also essential to the development of the whole child, in terms of their academic, social, emotional, cultural, spiritual, creative and of course physical development.
Sports Premium Page details Intent, Implementation and Impact
At Charlestown Primary School, we believe that PE, experienced in a safe and supportive environment, is vital and unique in its contribution to a pupil's physical and emotional health. The PE curriculum aims to provide for pupils' increasing self-confidence through an ability to manage themselves in a variety of situations. A balance of individual, team, co-operative and competitive activities aims to cater for individual pupils' needs and abilities. The scheme of work is based on progressive learning objectives which, combined with varied and flexible teaching styles, endeavor to provide appropriate, stimulating, challenging and enjoyable learning situations for all pupils. The scheme aims to promote an understanding of the benefits of exercise and encourage the learning of new skills across a range of relevant activities, which the children can then adapt to different situations and contexts.
We are committed to working with other schools, Poltair School Sports Partnership (PSSP) and the School Games. As a result, we encourage our children to take their skills into the community, for example by joining other clubs, and we welcome the expertise of members of the community (such as experienced coaches) into school.
Reading
Reading is the one skill we want all children to develop to the best of their ability - as it is the key to all learning. We aim for children to become independent and confident readers, so that they develop a love of reading.
Starting in EYFS, we use Read, Write Inc. as our systematic approach to the learning of phonics. There is a really talented and trained group of adults ready to support all children and help them on their reading journey. Children are checked every 6 weeks and the groups are adjusted to meet their next steps. All children take part in the national Y1 phonics check.
At Charlestown Primary School, we use the 'Read Write Inc' phonics programme designed by Ruth Miskin to teach early reading. The structured programme helps all children learn to read fluently and at speed so they can focus on developing their skills in comprehension, vocabulary and spelling. At the core of the programme is the lively and vigorous teaching of synthetic phonics. Children learn the 44 common sounds in the English language and how to sound-blend words for reading (decoding) at the same time as developing handwriting skills and spelling (encoding).
We have found that by using the Read Write Inc. programme, children experience success from the very beginning of their reading journey. Lively phonic books are then closely matched to their increasing knowledge of phonics and as children re-read stories their fluency increases. The stories include prompts to support thinking out loud and discussions, helping children develop the skills they need to be successful storytellers.
Read Write Inc. lessons are fun and engaging and all staff who deliver the reading sessions are fully trained. The lessons are taught daily and pupils are regularly assessed and grouped to enable appropriate challenge and pace throughout the programme.
Other Reading Opportunities
Silver Stories: we are proud members of this scheme set up by Elisabeth and David Carney-Howarth. Each week, a group of children read books to senior citizens in our community via Teams. This gives them a chance to connect across the generations and learn to love sharing their books as much as they enjoy reading them.
More information can be found on the scheme's website https://silverstories.co.uk/
If you know of someone in the community who would like to be involved, please contact the school office.
We also take part in special events such as World Book Day, Roald Dahl day etc to raise the profile of Reading here at Charlestown and give the children regular chances to share their favourite books with staff and each other.
Things you can do to help:
Try to set aside 10-15 mins as often as possible - to listen to your child read or share a book with them. Even 3-4 times a week is a great start.
Join the library and visit as often as you can.
Why not ask relatives to give a gift of a book for birthdays or Christmas? It could be that there is an audio book on a CD which could go with the book.
Encourage any older siblings to share in the reading with or listening of younger ones read.
Talk about the books you have read with them, ask them what their favourite part was and why. There are lots of other helpful hints in the Vipers section of the school website.
Religious Education
Please scroll down the 'Religious Education at Charlestown Primary School' to explore our Religious Education Curriculum.
The aim of religious education is to help pupils to:
engage confidently, constructively and reflectively with beliefs, values and lifestyles in a religiously diverse world
A religiously educated pupil in Cornwall must have the opportunity to:
acquire knowledge and understanding of religions in Cornwall in the present day
acquire knowledge and understanding of how religious traditions have shaped the identity of Cornwall
acquire and develop knowledge and understanding of Christianity and the other principal religions represented in Great Britain
develop an understanding of the influence of beliefs, values and traditions on individuals, communities, societies and cultures
develop the ability to make reasoned and informed judgements about the issues arising from the study of religions
reflect on their own beliefs, values and experiences as part of their study
Relationships, Sex and Health Education
Following a period of consultation in Spring and early Summer 2021, we produced the RSHE policy, refreshing our approach to the subject.
On this page, you will see some examples of Jigsaw - the scheme we use to help resource our teaching - in action.
Every term, we send out information to parents in each year group, explaining the subjects the children will be learning about and the language we will be using.
Of course, we go beyond the lessons and much for our approach to Relationships education is embedded throughout our daily work with the children: from our expectations of behaviour, to moral and religious stories we share in assemblies or Religious Education, as well as the visitors we welcome to work with us.
Science
We are one of several schools within Kernow Learning Trust that are working with The Ogden Trust as partners. This means we have access to exciting scientific opportunities.
Through the School Partnerships programme, the Ogden Trust is providing funding, equipment, CPD and facilitate partnership working with other schools and Trusts in the UK.
The four year partnership runs from 2020 - 2024 and the funding will be used to provide events, activities, trips and training to the 10 participating schools.
Science leaders from each of the partnership schools meet termly to plan an exciting and inspiring programme of events.
Science
Science essentially helps children to make sense of the world around them. Science allows children to acquire a body of knowledge which is supported by completing experimental tests and which is organised in a way that makes it easy to use. Science also provides children with the opportunity to access a practical way of finding reliable answers to questions we may ask about the world around us.
INTENT:
Provide an exciting, inclusive and inspiring science curriculum

Develop scientific knowledge and conceptual understanding through the specific disciplines of biology, chemistry and physics

Develop the essential scientific enquiry skills to deepen their scientific knowledge
To explore and learn scientific vocabulary to support their understanding and communication in science

Children build a strong science capital, gaining high aspirations and knowledge of possible careers
IMPLEMENTATION:
Knowledge organisers

WOW! HOW? NOW…
Vocabulary focus – rocket words

Challenge and stretch cards for more capable scientists.

Working scientifically skills are embedded throughout lessons and are systematically developed throughout the children's time at our school

Practical investigations cover a wide range of enquiry approaches

Use a wide range of high-quality resources
Termly whole school assessments on working scientifically skills

Science clubs

Regular science events and enrichment (including science week)
IMPACT:
Science is a high-profile subject in the school community (evidenced in questionnaires)
Children gain a deep and robust scientific knowledge that builds on previous learning (evidenced in highlighted learning intentions and end of unit tests)

Children have strong scientific enquiry skills that build on previous learning (evidenced in Whole School Assessments and lesson enquiry starters)

Children have good knowledge and understanding of scientific vocabulary, applying it in their learning

Children develop high aspirations (evidenced in questionnaires)
Aims and Objectives
- To nurture children's natural inclination to explore the world and examine changes in the world.
- To ensure children acquire knowledge as a result of finding answers to questions about the world around them.
- To engage pupils with learning about science, using an array of techniques to link ideas with practical experiences.
- To support pupils to question and explore scientific issues that are likely to impact upon their own lives.
- To help pupils develop and evaluate scientific ideas, using a number of different scientific techniques, such as investigative skills.
- To have strong cross-curricular links and improves children's communication skills, numeracy, problem solving and ICT skills.
Charlestown Science
Science and Engineering are rapidly growing and important industries in the modern world. Even if children do not become scientists or engineers, they will grow up in a world that requires scientific literacy and critical thinking skills. Science is all around us and helps children to make sense of the world. Charlestown Primary School recognises the importance of Science and strives to maintain a high profile for the subject. Our intent to enthuse and inspire children to develop a love of science is reflected in our curriculum and enrichment activities.
Pupils learn through practical activities that link to the real world and through discussion. Working scientifically skills are embedded in our curriculum. A scientist questions, predicts, observes, records, analyses and evaluates. All children can be scientists by following their own natural curiosity and at Charlestown, teachers emphasise these skills in order for children to flourish. Our school strongly encourages the use of subject specific vocabulary and through effective teaching of science we develop children's knowledge and key skills during each unit of science.
On the journey across the school, children become increasingly more independent, completing pupil led investigations, selecting resources and choosing their own strategies for recording. Pupils' enthusiasm for science in our school is clear. Extra-curricular events and science weeks have been a huge success.
March 2022: The children said.....
Year 1 child: 'We like science, we do lots of experiments.'
Year 2 child: 'We learn about how things work. We learn about everything!'
Year 3 child: 'We make experiments. We see what's inside things. I loved looking at rocks and volcanos.'
Year 4 child: 'We make towers out of ice cubes. It was very cold! We made ice cream too. Science is amazing.'
Year 5 child: 'We do a bit of everything. I like doing the science quizzes to show what you've learnt.'
Year 6 child: 'I like to investigate and write about experiments. Can we do more science please- every day!?'
Writing
Our Writing Curriculum
At Charlestown Primary School, we believe that writing is an essential life skill not just for academic success but also as a means to enriching lives. We believe that effective writing gives children a voice to share their ideas and opinions with the world. Writing winds its way through our curriculum, giving a richer and more purposeful learning experience. We aim to nurture a lifelong love for writing, equipping our children with the knowledge and skills needed to be effective authors of their own. We want children to have an understanding that writing has a real-life purpose and therefore we provide them with inspiring stimuli, powerful examples from influential authors and opportunities to share and take pride in their own compositions.

Implementation
Children are taught writing using the Talk for Writing approach and the three stages of imitation, innovation, and invention. This approach enables children to read and write independently for a variety of audiences and purposes within different subjects. Children are taught to write through a variety of genres and story types. This approach ensures the familiar structures become fully embedded in the long-term memory so that the children can later apply these structures to their own writing whilst developing specific writing techniques taught for the area of focus. For example, children may be writing using the structure of a portal story whilst developing their understanding of what makes an effective setting description.
The Cold Task
Teachers use what is known as a 'Cold' task, which aims to see what the children can do independently at the start of a unit, drawing on their prior learning. Assessment of their writing helps the class teacher work out what to teach the whole class, different groups and adapt the model text and plan. Targets can then be set for the class. By the end of the unit, pupils complete a 'Hot' task which is an independent task on the same focus of writing. Progress should be evident which encourages pupils and helps school track the impact of teaching.
The Imitation Stage
The teaching begins with a creative 'hook' which engages the pupils, often with a sense of enjoyment, audience, and purpose. The children are then introduced to a model text. The model text is written to include the age-appropriate language patterns and the tools the children will need when they are writing. This is learned using a 'story map' and actions to strengthen memory and help students internalise the text. Activities such as drama are used to deepen understanding of the text.
Once the children can 'talk like the text', skills such as vocabulary and comprehension are focused on. We then analyse the basic text (boxing up) and language patterns, as well as focusing on writing techniques or toolkits.
The 'boxing up' provides children with a basic structure for their stories and is used to plan.
Central to each unit is a 'Toolkit' focus. These provide children with the writing techniques which will help them to develop their writing. The 'Toolkits' progress over the Key Stages and are built upon year on year.
Fiction and Non Fiction Genres.
FICTION
Rags to Riches - A rags to riches narrative is often used to describe people who begin their lives in extreme poverty and end up comfortable and wealthy, often through hard work or exceptional talent.
Fear Tale - A fear narrative tells the story of a character who has to face his/her fears and overcomes it.
Finding Tale - A finding tale tells the story of a character who finds something unusual, which causes a problem., The main character has to return the object to put things right. in putting everything right, the main character also learns a lesson.
Losing Tale - A losing tale tells the tale of a main character having something precious. Unfortunately, the item is lost and the main character is required to search for the item. Luckily, the item is found and the main character learns a valuable lesson.
Journey Story - A journey story tells the tale of a main character who goes on a journey and has to overcome a number of problems before the journey ends.
Conquering the Monster Story - A conquering the monster story tells the tale of the main character who is confronted by a monster who causes problems and who is hard to defeat. Eventually the main character is able to defeat the monster and all is well.
Character Change Story - A character change story tells the tale of the main character who needs to change part of his/her character, as he/she is always getting into trouble. By changing the part of his/her character that get him/her into trouble, everything ends all well.
NON-FICTION
Persuasion - writing to convince your reader that what you're saying is true.
Discussion - writing different points of view on an issue, providing arguments for and against. It presents a balanced set of arguments without leaning one way or the other.
Recount - writing in chronological order about an event which has happened.
Information - writing information about a particular topic.
Instruction - writing a set of instructions explaining how something should be carried out or completed.
Explanation - writing a explanation so that the reader can understand how or why something is done.
Toolkits
Please click on the links below to see the Toolkit Progression documents for each narrative unit.
Openings and endings
Suspense
Setting
Character
Dialogue
Description
Please click on the links below to see the Toolkit Progression documents for each non-fiction unit.
Persuasion toolkit
Discussion
Recount
Instruction
Information
Explanation
The Innovation Stage
Once pupils have internalised the model text, we then create our own versions. A new subject is presented and the teacher guides the children through planning. With younger pupils, this is based on changing the basic map and retelling new versions. Older children use boxed-up planners and the teacher demonstrates how to create simple plans and orally develop ideas prior to writing. Ideas may need to be generated and organised or information researched and added to a planner. Shared and guided writing is then used to stage writing over a number of days so that pupils are writing texts bit by bit, concentrating on bringing all the elements together, writing effectively and accurately. Feedback is given during the lessons so that children can be taught how to improve their writing, make it more accurate, until they can increasingly edit in pairs or on their own.
The Invent Stage and The Hot Task
Eventually, pupils move on to the third phase, which is when they apply independently what has been taught and practised. Before this happens, the teacher may decide to give further input and rehearsal. Children are guided through planning, drafting and revising their work independently. It is essential to provide a rich starting point that taps into what pupils know and what matters so that their writing is purposeful. Writing may be staged over a number of days. With non-fiction, children apply what they have been taught across the curriculum. The final piece is used as the 'Hot' task, which clearly shows progress across the unit.